New Line prepares Life as a House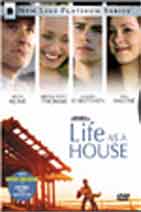 The family drama Life as a House gathered praise for the acting performances of both Kevin Kline and newcomer Hayden Christensen. Now New Line Home Entertainment is preparing a Platinum Line edition of the film for a March DVD release.
When a man is diagnosed with terminal cancer, he takes custody of his misanthropic teenage son, for whom quality time means getting high, engaging in small-time prostitution, and avoiding his father.
An anamorphic widescreen transfer and audio in Dolby Digital 5.1 and DTS 5.1 tracks as well as an audio commentary with director Irwin Winkler, co-producer Rob Cowen and writer Mark Andrus will enhance the film itself. Additionally, the DVD will be home to the featurettes, "Character Building", "Inside Life as a House" and "From the Ground Up", deleted scenes with optional commentary, the theatrical press kit, trailers, and DVD-ROM goodies.
Coming to video March 26th, retail for the set will be $24.95.