MGM brings back The Usual Suspects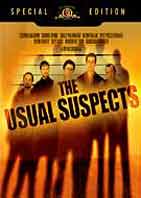 One of the very first DVDs released back in 1997, The Usual Suspects has been repackaged several times, but never given any substantial improvement until now. MGM Home Entertainment will finally give the modern noir classic an overhaul with a new special edition due this April.
An explosion, 27 dead bodies and $91 million in recovered drug money lead the police to a deal gone bad. But what went on that night? The only two survivors are a Hungarian refugee and a small time crook named Verbal Kint who have nothing in common but a fear of the infamous Keyser Sose. Could the famed crime lord be behind this catastrophe, or is there another secret waiting to be discovered?
"The Usual Suspects" comes with an anamorphic widescreen and a fullscreen transfer. Audio will come in Dolby Digital. Two audio commentaries will come on the disc, the first with director Bryan Singer and writer Christopher McQuarrie and the second with composer John Ottman. Also available will be deleted scenes with optional commentary, four new featurettes; "Pursuing The Suspects", "Doing Time With The Suspects", "Heisting Cannes With The Usual Suspects" and "Keyser Sose: Lie Or Legend?", TV spots, theatrical trailers and a gag reel of outtakes.
Hitting shelves April 2nd, "The Usual Suspects" will come in a special packaging which will be followed soon thereafter by a standard packaging release of the same disc. Both versions will cost $24.95.