Full specs on Star Trek: The Next Generation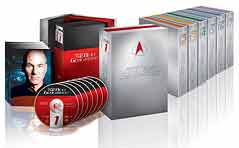 A lot of information has come down from Paramount Home Entertainment concerning Star Trek: The Next Generation. Not only is the first season coming, but the rest of the series will be on its way shortly thereafter. The entire run of the show that ran from 1987-1994 will make its way to DVD by March of 2003. That's great news for fans of the series, if not for their pocketbooks.
The first season will be released as a seven disc set; each disc containing four episodes as follows:
Disc 1: Encounter at Farpoint Parts I and II, The Naked Now and Code of Honor
Disc 2: The Last Outpost , Where No One Has Gone Before, Lonely Among Us and Justice
Disc 3: The Battle, Hide and Q, Haven and The Big Goodbye
Disc 4: DataLore, Angel One, 11001001 and Too Short a Season
Disc 5: When the Bough Breaks, Home Soil, Coming of Age and Heart of Glory
Disc 6: The Arsenal of Freedom, Symbiosis, Skin of Evil and We'll Always Have Paris
Disc 7: Conspiracy, The Neutral Zone and Special Features
Each episode will be presented in its original fullscreen video and Dolby Surround audio presentations as well as a new Dolby Digital 5.1 surround mix. The extras on the seventh disc will include The Beginning a documentary on the challenges of creating a new Trek series, Selected Crew Analysis with stars of the show, The Making of a Legend documentary and cast and crew discussions of specific episodes and events that occurred during the first season. Oddly absent from the discs are the television spots for each episode which were the only feature of earlier Star Trek DVDs.
The first season box set will arrive on March 26th with no suggested retail price. After that each season of the series will be released in a similar box set every other month until the seventh season is released in March of 2003. A massive flux of Star Trek DVDs into the market to be sure, but a welcome one from fans who have waited for the shows arrival on DVD since the format's inception.