Fantoma visits a world of Giants & Toys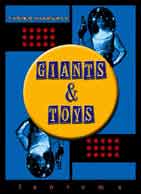 Black comedy is not a genre typically associated with Japanese cinema, but in 1958 director Yasuzo Masumura released the eccentric Giants & Toys to critical praise. Fantoma Films is preparing a new DVD of the film to be released later this winter.
When three rival candy companies go to war for market supremacy, World Caramels enlists a lower-class girl with appallingly bad teeth to be their new spokesmodel. In a world of industrial spies, hostile takeovers and boardroom hysterics, the animal instincts of this overnight star prove to be the most cutthroat of all.
anamorphic transfer and original Japanese mono with optional English subtitles ensure the best viewing quality for the film. The DVD will also feature a theatrical trailer and a filmography/biography for Tasuzo Masumura.
Priced at $29.99, "Giants and Toys" will be released on February 12th.