Columbia logs back onto The Net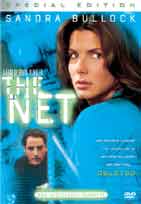 Many of Columbia TriStar Home Entertainment's early DVDs were perfectly acceptable first attempts from the studio. Now that DVD has matured as a format, the studio has revisited many of these early releases as special edition DVDs. The latest film to benefit from the Columbia treatment is one of the early Internet thrillers The Net.
Sandra Bullock is Angela Bennett, a computer analyst who has little need for human contact. But slowly she discovers that her identity is being erased. Now she has to discover who is trying to steal her identity, and why.
The new DVD comes with an anamorphic widescreen transfer and audio in Dolby Digital 5.1. Two audio commentaries are featured, one with director Irwin Winkler and producer Rob Cowen, the second with writers John Brancato and Michael Ferris. Other features include the HBO special "Inside The Net", the original making-of featurette, cast and crew filmographies and a theatrical trailer.
On April 2nd, Columbia will release the 1995 thriller as an attractive new special edition. The DVD will be priced at $27.95.