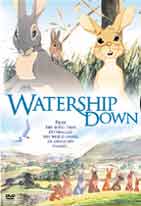 The 1978 dramatic animated fantasy Watership Down is coming to DVD in March from Warner Brothers Home Entertainment. The film marked one of the first full length animated features from the studio, and is considered by many to be its best.
Richard Adams' best-selling book about a family of rabbits seeking a new home is spellbindingly visualized and beautifully scored. Seen through the eyes of visionary Fiver, thoughtful Hazel and courageous Bigwig, they have left their warren to escape destruction, facing danger along their journey from malicious farm animals, shadowy humans and their own kind.
Presented in anamorphic widescreen, the new DVD features the musical number "Bright Eyes" performed by Art Garfunkel and a theatrical trailer.
Coming on March 26th, "Watership Down" will carry a $19.98 suggested retail price.