Warner Home Video readies Hearts in Atlantis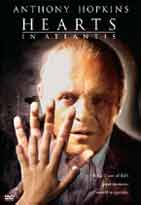 Anthony Hopkins turns in the most recent of a long line of powerful performances in the dramatic fantasy Hearts in Atlantis. The film which had a well received theatrical run earlier this year is coming to DVD in February from Warner Brothers Home Video.
Based on a Stephen King novella, the film is set against the backdrop of the Vietnam war and centers around an 11-year-old fatherless boy whose life is changed when an eccentric adult with a strange past boards at his home.
The DVD will feature an anamorphic widescreen transfer in the movie's original theatrical aspect ratio of 1.85:1 and will contain 5.1 channel dolby Digital audio track n English and French. An audio commentary will come on the DVD as will interviews with cast and crew, a photo gallery, filmographies and a theatrical trailer.
Coming with a suggested retail price of $24.98, "Hearts of Atlantis" will arrive on February 12, 2002.