Walt Disney brings The Hunchback Of Notre Dame to DVD in March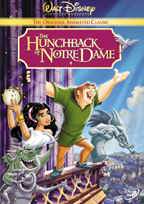 Walt Disney Home Entertainment has just unveiled details about their upcoming release of the animated feature film The Hunchback Of Notre Dame, scheduled for release on March 19.
In 15th century Paris, Clopin the puppeteer tells the story of Quasimodo, the misshapen gentle-souled bell ringer of Notre Dame, who was nearly killed as a baby by Claude Frollo, the Minister of Justice. But Frollo was forced by the Archdeacon of Notre Dame to raise Quasimodo as his own. Now a young man, Quasimodo is hidden from the world by Frollo in the belltower of the cathedral. But during the Festival of Fools, Quasimodo, cheered on by his gargoyle friends Victor, Hugo, and Laverne, decides to take part in the festivities, where he meets the lively gypsy girl Esmeralda and the handsome soldier Phoebus. The three of them find themselves ranged against Frollo's cruelty and his attempts to destroy the home of the gypsies, the Court of Miracles. And Quasimodo must desperately defend both Esmeralda and the very cathedral of Notre Dame.
The DVD will feature an anamorphic widescreen transfer of the movie complete with a 5.1 channel Dolby Digital and a DTS audio track, as well as Dolby Surround tracks in French and Spanish. The DVD will also feature a commentary track by producer Don Hahn together with the directors Kirk Wise and Gary Trousdale. A Making Of Documentary will also be part of the release, as well as the Topsy TurvyUnderground Game. Further you will find a Multi-language Reel for A Guy Like You on the disc and the Sing-AlongTopsy Turvy.
"The Hunchback Of Notre Dame" is scheduled for release on March 19, 2002 and will carry a suggested retail price of $29.99.