Tom Hanks and Jackie Gleason have Nothing in Common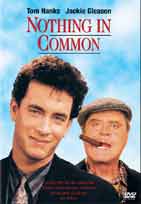 Jackie Gleason offered up his final film performance opposite the then newcomer Tom Hanks in the sentimental comedy Nothing in Common. Columbia TriStar Home Entertainment has decided to revisit the film this winter.
Because of his talent, charm and wisecracking sense of humor, David Basner (Hanks) is a self-made man on the fast track. He loves his job, his bank account is healthy and women find him irresistible. Then his father Max (Gleason) calls to give David the news that he and David's mother Lorraine are calling it quits after 35 years. Now, aside from pressures of his own busy life, David has the new responsibilities of taking care of his crotchety dad and emotionally supporting his mother. Through these experiences, David gains a new understanding and appreciation of his parents, with whom he thought he had nothing in common.
With options for either fullscreen or anamorphic widescreen "Nothing in Common" comes with its original mono soundtrack and an original theatrical trailer but will carry no additional features.
Coming to stores on February 19th, the early Tom Hanks comedy will carry a suggested retail price of $19.95. Pick it up and watch it with your dad.