The missing years of Elvis Presley show up on DVD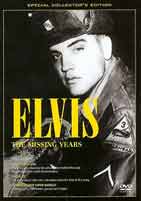 MVD Music Video, a company primarily known for its music video releases, is preparing a new retrospective on the King of Rock and Roll during the times of his life that have so far been less publicized in Elvis Presley – The Missing Years.
The DVD documents the events in Elvis" life and reveals in details his two years in Germany after being drafted just three weeks after the death of his mother. These years obviously left a gap in the singer's musical career in which fans were scrambling for news about the King. In a time before the Internet and CNN, such information was scarce. Careful examination of facts and interviews reconstruct those years revealing at last those missing years in the biography of rock and roll's favorite son.
In addition to the feature, the disc also features a 55-minute audio commentary spanning Elvis" life and career. Also included in the set is a new audio CD which includes seven recordings by Elvis and the Blue Moon Boys such as "Maybellene," "That's Alright Mama," "Blue Moon of Kentucky" and more! Also contains a number of rare interviews where Elvis reveals his vulnerability and uncomplicated nature that his fans came to understand and adore. A 32 page booklet completes the set with gossip and interviews with the people who knew Elvis personally. Includes rare photos, many in full color, plus newspaper photos and articles profiling the greatest music and fashion icon of all time.
Bowing on February 19th, "Elvis Presley – The Missing Years" will have a $29.95 price tag.