Jo Jo Dancer headlines on DVD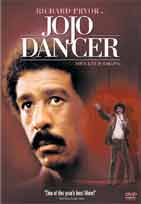 Richard Pryor stepped into the director's shoes in 1986 to tell the fairly autobiographical story Jo Jo Dancer, Your Life is Calling. The film which rides a fine line between comedy and drama will be available on DVD for the first time this March from Columbia TriStar Home Entertainment.
A dramatic behind-the-scenes look at show business, "Jo Jo Dancer, Your Life is Calling" stars Richard Pryor as a well-known comedian at the peak of his popularity and the bottom rung of his self-esteem. Jo Jo has it all: Hollywood stardom, movie roles, platinum records. But the price he pays for fame and fortune is too great. He buckles under the pressures of success and suffers a life-threatening accident. Forced to examine his life, the film follows Jo Jo's compelling past through four decades, from his upbringing in a brothel, to classic comedy performances in cellar nightclubs, to ultimate stardom as a rowdy irreverent comic. This film marks Pryor's directing debut with his personal vision of one man's odyssey of triumph and tragedy.
Presented in anamorphic widescreenand fullscreen in its original mono. Unfortunately, despite the new transfer given to the film, no other extras have been added to the film.
Priced at $19.95, "Jo Jo Dancer, Your Life is Calling" will arrive on disc on February 19th.