Columbia sets Barabbas free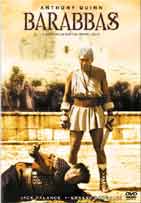 Much like the citizens of Rome, many DVD enthusiasts have cried out
"Give us Barabbas, and following Pilate's lead, Columbia
TriStar Home Entertainment has granted the request with a new DVD
due out this Easter.
This is the fictional story of Barabbas based on a fascinating passage
in the New Testament, when Pontius Pilate (Kennedy) asked the people of
Jerusalem whom they want freed, Jesus of Nazareth or Barabbas (Quinn), a
thief and murder. Surprisingly, the people call out for Barabbas. And
though he is set free, the event is one that haunts Barabbas for the
rest of his life. After watching his former lover Rachel (Silvana
Mangano), being stoned to death for her belief in Jesus, Barabbas
returns to his life of thievery. Arrested again, he is sent to the
sulfur mines and then to a gladiator school where he witnesses yet
another friend giving his life in the name of the Nazarene. It is only
at the end, when Barabbas himself faces crucifixion, that he discovers
his faith.
Presented in anamorphic widescreen and Dolby Digital 4.0
sound, the length of the film limits the features to a theatrical
trailer.
Coming on March 5th, "Barabbas" will be released on $24.95.