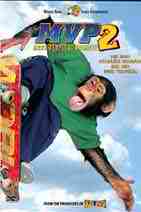 Warner Family Entertainment seems to have found its niche in direct-to-video movies; children and animals. The trend continues late this January with the studio's new release of MVP 2: Most Vertical Primate.
>From the makers of Air Bud, it's the return of the wackiest chimp ever to swing onto video! That's right. Jack's back and he's on a roll! The monkey business begins when Jack is framed for something he didn't do – and ends up separated from his friends, all alone in a strange city. Befriended by a shy street kid name Ben, Jack soon reveals a hidden talent for totally awesome skateboard moves! Now, as Ben prepares to make his fondest dream come true by entering the big skateboarding championships, the little chimp with the King-Kong-sized attitude is ready to help out – by taking the world of skateboarding for a ride on the wild side!
Presented in its original fullscreen aspect ratio, the disc's audio will be presented in Dolby Surround. Extra features to keep the kids inside after the movie include a behind-the-scenes featurette, outtakes, trailers, skateboarding Trick Tips, cast and crew biographies, and skateboarding tricks featuring skateboarding expert Bob Burnquist.
If you want to see a monkey skateboard, and you don't have the patience to train one yourself, pick up "MVP 2" on January 22nd when it rolls into stores for $19.98. And don't worry, the chimp will return next year in the snowboarding MVP 3.