Samurai Jack leads the cartoon invasion from Warner Brothers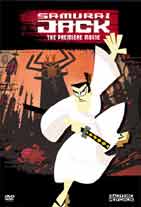 This March, Warner Brothers Family Entertainment has four animated films, new and old coming to DVD for the first time Classic cartoon icons Scooby-Doo and Tom and Jerry are joined by Cartoon Network newcomer Samurai Jack in Scooby-Doo and the Reluctant Werewolf, Tom and Jerry: The Movie, Tom and Jerry: The Magic Ring and Samurai Jack: The Premiere Movie.
Scooby and Shaggy are back to work, dealing not with one monster, but a whole heap. But while most of the monsters scare the Scooby snacks out of the dynamic duo, one werewolf seems to be a little different. It's up to Scooby, Shaggy, and Scrappy to figure out what's so fishy about this wolf. No features have been announced for this title.
Tom and Jerry return to the silver screen in "Tom and Jerry: The Movie". The celebrated cat-and-mouse team meets Robyn Starling, a runaway who desperately needs their help to find her missing father. Despite heroic efforts, Tom and Jerry are captured by Robyn's nasty Aunt Figg and her lawyer Lickboot, and then tossed into pet prison by the villainous Dr. Applecheeks. Tom and Jerry brilliantly mastermind a great escape and free their new friends, Puggsy and Frankie Da Flea. Together with Robyn, they set off on a wild cat-and-mouse escapade, full of thrills and adventure like you've never seen. Special features haven't yet been announced, but the DVD will be available on March 12th.
Coming on the same day, he world's favorite cat-and-mouse team bound back into action in "Tom and Jerry: The Magic Ring". Left in charge of a priceless magical ring by its young wizard master, Tom is horrified when the ring gets stuck on Jerry's head – and the little mouse takes off into the city! Before you can say "abracadabra", the entire town is hot on our heroes' tails, the sorcerer's ring is spouting a torrent of mischievous magic, and Tom and Jerry are up to their animated ears in trouble. The DVD will also carry the two Tom and Jerry shorts "Haunted Mouse" and "The Flying Sorceress" as well as the two featurettes "Behind the Artist's Brush" and "How to Draw Tom & Jerry".
In ancient Japan, the story of "Samurai Jack" unfolds as the shape shifting wizard known as Aku resurfaces and attacks the nation. When the emperor is captured, his son is sent to train throughout the world in many forms of discipline and combat. As an adult, he reunites with his mother, who gives him the sacred sword capable of defeating Aku. When the samurai returns home to face the wizard, he is sent through time into the distant future, where Aku still rules over a world filled with high technology, aliens, and other oddities that the samurai doesn't understand. Taking on the name Jack, the samurai makes a name for himself as he struggles to free the future from Aku's grasp, and one day return to his own time to stop Aku before this future comes to pass. The features and technical specs are still unknown, but the DVD will be available on March 19th.
Coming throughout the month of March, Warner Family Home Entertainment will present all of these titles for $19.95 each.