Warner prepares the original Ocean's 11 for release in January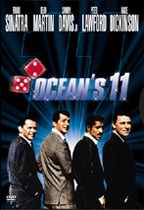 While Steven Soderbergh's remake is just about ready to hit theaters, Warner Home Video is preparing the 1960 original version of Ocean's 11, starring the Rat Pack – Frank Sinatra, Dean Martin, Sammy Davis Jr, and Peter Lawford – for release on DVD in January.
Eleven friends who know each other from World War II service plan to rob five of the biggest casinos in Las Vegas in one night. They develop a master plan but after the whole thing is over, something goes wrong…
The DVD will feature a 16×9 enhanced widescreen transfer of the film and come with a Stereo audio track in English. The disc will also contain two separate Commentary Tracks. The first one will feature Frank Sinatra Jr, and actress Angie Dickinson, while the second one will be supplied by Steven Soderbergh, director the hot new remake.
The DVD will also contain five Vignettes about Las Vegas, called Map of Vegas and a Featurette entitled, Headlining at the Sands. A Photo Gallery with 50 photos of Frank Sinatra on Stage is also included, as well as the movie's trailer.
Sounds cool? Well, it actually sounds pretty hot to us, so keep your eyes open for the original "Ocean's 11" on January 8 when it comes to a store near you at a suggested retail price of $19.98.