Smell The Scent Of Green Papaya in December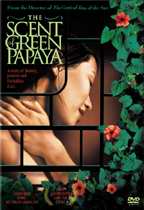 Another foreign screen gem is coming to DVD in December courtesy of Columbia TriStar Home Entertainment when the studio will release the highly acclaimed Vietnamese drama The Scent Of Green Papaya by director Anh Hung Tran
It is a love story of exquisite beauty and originality, set in Vietnam of the 50s and 60s, it is the story of a shy peasant girl who goes to Saigon at the age of ten as a household servant. Beneath the calm exteriors of the lovely home where she works is an undercurrent of lost love and marital discord. Attuned t othe people around her and enchanted by nature, Mui grows into a beautiful young woman who inspires her upper-class lover to break with convention.
"The Scent Of Green Papaya" will be released in a fullscreen presentation – presumably the movie's original aspect ratio – with a Vietnamese audio track and English subtitles. Sadly, only a selection of trailers will be added as extras on the disc.
Fans of foreign film have long waited for this particular movie and will be pleased to finally get the chance to own it on DVD when it will be released on December 18.