Rush Hour 2 get the Infinifilm treatment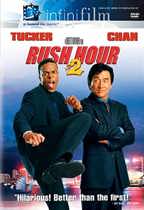 The Infinifilm line from New Line Home Entertainment is about to grow with the addition of this summers high action teaming of east and west in Rush Hour 2.
The fastest hands in the East re-team with the biggest mouth in the West in this hit sequel to the blockbuster original. In Hong Kong for a vacation, LAPD detective James Carter (Chris Tucker) and Chief Inspector Lee of the Royal Hong Kong Police (Jackie Chan) are confronted with the biggest case of their careers – finding the people who killed two U.S. Customs agents who had been investigating a smuggling ring. With the Hong Kong and U.S. authorities fighting over jurisdiction of the case, Lee and a reluctant Carter set off on their own to crack the case. Along the way Lee and Carter must contend with the beautiful and deadly henchwoman Hu Li (Zhang Ziyi) and the alluring, mysterious and seemingly corrupt U.S. secret service agent Isabella Molina (Roselyn Sanchez). The action returns stateside for a brief detour through Los Angeles before climaxing in a spectacular, action-filled finale at the opening night of the Red Dragon Hotel and Casino on the Las Vegas Strip.
The new DVD will feature the film in anamorphic widescreen with audio mixes in 5.1 Dolby Digital EX, 6.1 DTS ES, and Dolby Surround. Like all Infinifilm releases, "Rush Hour 2" will feature several traditional features as well as several features designed to bring the viewer into the movie making process.
The extended "behind the movie" features including Jackie Chan's Hong Kong Introduction, a brief featurette looking at Hong Kong through the eyes of one of its biggest stars, "Culture Clash: West Meets East," an entertaining 30-minute documentary highlighting the contrasts between shooting a film in Hong Kong with a crew from America, "Attaining International Stardom," a documentary looking at how the Rush Hour series has made international stars of both Chris Tucker and Jackie Chan, "Kung Fu Choreography," a documentary in which Jackie Chan will discuss some of the different ways martial arts is represented to the public, as well as ways in which audiences in America and in Asia respond to the different styles and "Lady Luck," an early student film by Director Brett Ratner.
The All Access Pass features include "Making Magic Out of Mire," A look at Brett Ratner's directing style, "Fashion of Rush Hour 2," a humorous guided tour by Jeremy Piven through the outfits showcased in Rush Hour 2, "Evolution of a Scene," an analysis of the development of three scenes: Chicken Chop, The Bomb and Slide For Life, deleted scenes and outtakes, visual effect deconstruction of the opening bombing scene with an introduction by Visual Effects Supervisor Kevin Lingenfelser and DVD-ROM contents.
Coming on December 11th with a S.R.P. of $26.98, "Rush Hour 2" will make a welcome addition to the Infinifilm line.