Release date set for Atlantis: The Lost Empire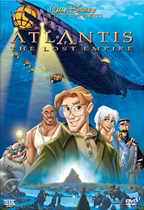 Disney's most recent animated adventure, Atlantis: The Lost Empire set a darker tone for the movie franchise that hasn't been seen since the earliest Disney films. Although final details are not yet in, we have new information on dates for two upcoming releases of the DVD.
Milo Thatch, like his grandfather, has one obsession; Atlantis. He knows the lost city is real. He just needs a chance to prove it. He finally gets his chance when he gets his hands on the legendary Shepards Journal – the key to finding Atlantis. When Preston B. Whitmore, an eccentric millionaire agrees to fund his expedition, Milo must learn to trust his new team of explorers and engineers in the quest. But when the legend of Atlantis becomes closer, the crew's intentions become murkier. In the end it's up to Milo and some new friends to save the lost culture.
Like the last couple of Disney summer releases, "Atlantis: The Lost Empire" will be released both as a regular edition, and a special two-disc special edition. Although no details are available on specifications or features, both versions will be available on January 29, of next year.