Paramount joins the Rat Race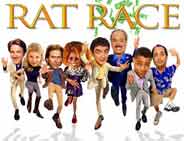 In the spirit of "It's a Mad Mad Mad Mad World", Jerry Zucker of "The Naked Gun" fame pieced together an all star cast for the cross-country comedy Rat Race. Now Paramount Home Entertainment is setting up to give the film the special edition treatment as the movie hits the digital disc next year.
Donald Sinclair is one of the most powerful men in Vegas, and the owner of the most opulent casino in town. Like all good hosts, he feels he must put on a good show for his patrons, and decides to entertain them with the highest stakes around; two million dollars. Six teams are established including a clean-cut lawyer, a disgraced NFL referee, two inept brothers, a determined mother and daughter, a narcoleptic Italian immigrant, and a desperate father who all need to get across the country by any means necessary to be the first to the prize.
Presented in anamorphic widescreen with audio in Dolby Digital 5.1 and Dolby Pro Logic 2.0, the DVD will contain many nice features. While hardly as immersive as recent Paramount special editions, "Rat Race" will contain an audio commentary by director Jerry Zucker, a making of featurette, one outtake and six deleted scenes. A theatrical trailer and gag reel help round out the release.
Mark your calendars for January 22nd of 2002 when you can rush to the stores and be the first to find "Rat Race". The suggested retail price for the disc will be $29.99.