Jeepers Creepers makes a quick jump to DVD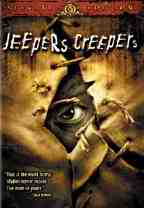 Less than eight weeks after its theatrical release, the new thriller Jeepers Creepers has been given a January release date from MGM Home Entertainment.
Darryl and Trish are coming home after their first year together at college. But the trip takes a turn for the worse when a a mysterious stranger in a trench coat starts showing up again and again. Fearing the worst, the teens enlist the help of a crazy woman and a psychic who help them learn of the true identity of the man, an ancient demon known only as The Creeper who eats people to regenerate his parts. Unfortunately, The Creeper is hungry again, and has taken an interested in Darryl and Trish.
"Jeepers Creepers" Special Edition will carry both the original anamorphic widescreen and a pan & scan versions of the film with a Dolby Digital 5.1 soundtrack, as well as Dolby Surround tracks in French and Spanish. The disc will feature an audio commentary by director Victor Salva, the featurette "Behind-the-Peepers", and deleted footage including alternate opening and ending scenes. In a truly ridiculous move, MGM is also advertisng the fact that the DVD will contain hidden features, so keep your eyes open.
Coming on January 8th, 2002, "Jeepers Creepers" carries a $26.98 suggested retail price.