Fox ups the ante with Moulin Rouge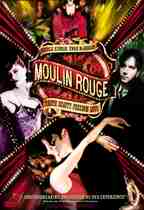 Twentieth Century Fox Home Entertainment is producing their most in depth interactive disc to date. The artisitic musical romance Moulin Rouge is coming as a special edition DVD entirely created by the film's director to immerse the viewer in the film in a way not seen before. Marking the first ever DVD created, directed, and produced by the director of the film, the "Moulin Rouge" DVD features more than six hours of exclusive extras developed by director Baz Luhrmann, immersing the viewer deeper into a film than ever before. Enhancing and expanding upon the film's theatrical experience, the DVD provides insight into Lurhmann's renowned creative process by offering a view through the looking glass of the four years spent bringing this film to the big screen.
Nicole Kidman sizzles as Satine, the dazzling star of a popular French nightclub that caters to society's decadent elite. At the height of her sexual power, the stunning courtesan ignites the innermost of all the men who come in contact with her. She unwittingly draws Christian, a struggling young writer portrayed by Ewan McGregor, into her seduction spell. His love for her is forbidden, obsessive and unstoppable. Their steamy affair sparks scandal and explosive consequences.
The new special edition will be spread over two discs. The first disc will contain the film in anamorphic widescreen with audio in both Dolby Digital 5.1 and DTS 5.1. The first disc will also feature two audio commentary tracks featuring Baz Luhrmann, Catherine Martin, Don McAlpine, and Craig Pierce as well as a descriptive audio track for the visually impaired. An exclusive "Behind The Red Velvet Curtain" version will be included via seamless branching featuring a little green fairy that leads the viewer behind-the-scenes into the world of Lurmann's "Moulin Rouge". The second disc contains multiple featurettes that bring the viewer deep into the production process from conception to release – "The Writers Gallery,""Creating The Intro To The Film," "The Actor's Gallery" (Featuring Kidman, McGregor, Leguizamo, Richard Roxborough, and Jim Broadbent discussing their characters), "Dance Gallery" (Uncut choreography sequences), "Editorial Gallery," (Extended scenes), "Music Gallery," (Scoring of the film and an interview with Fat Boy Slim), and "Animating The Green Fairy,". Also included are The HBO "First Look" special, multiple extended scenes, several key choreography-laden scenes featuring multi-angle options, "Come What May" and "Lady Marmalade" music videos, MTV Movie Awards live performance of "Lady Marmalade", two theatrical trailers , and a still gallery featuring artwork by Ellen Von Unwerth, Mary Ellen Mark, Douglas Kirkland, Sue Adler, and Merrick Morton.
The extensive two-disc set of "Moulin Rouge" will be coming to stores on December 18th with a suggested retail price of $29.98.