Enticing new details on Vista Series titles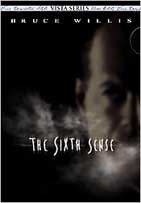 After the successful sales numbers on Disney's first Vista Series title, "Unbreakable", the studio recently announced the next two titles in the series; the macho western Tombstone and M. Night Shyamalan's original suspense thriller The Sixth Sense. Despite what we announced earlier, though, the Vista Series release of "The Sixth Sense" will indeed contain new material that was not part of the previous special edition release. The 2-disc set will contain a Dolby Digital and a DTS audio track as well as a number of new Featurettes, including a documentary on the paranormal, hosted by M. Night Shyamalan. New footage from the set of the film will also be included as well as other new features. The set has been entirely supervised by director Shyamalan.
After a feature-laden laserdisc of "Tombstone" some years ago, and a fairly poor showing on DVD, fans of the film have been rooting for a special edition for years. The new two-disc set should meet and exceed expectations. Featuring a new anamorphic widescreen transfer, and audio in both Dolby Digital 5.1 and DTS, the set will include wealth of extras. First up is an audio commentary with director George Cosmatos. Also included are three featurettes titled "An Ensemble Cast," "Making An Authentic Western" and "The Gunfight At The O.K. Corral", a Tombstone timeline and map, original storyboards for the shootout sequence and the "Faro at the Oriental" game. DVD-ROM content is also included.
Both "Tombstone" and "The Sixth Sense" are on their way January 15th, and will each carry a suggested retail price of $29.95.