Disney brings you a Special Edition of Peter Pan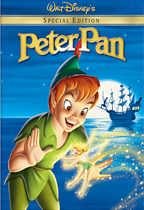 Buena Vista Home Entertainment has just unveiled the details about a Special Edition of the Disney animated feature film Peter Pan, scheduled for release on February 12.
The fantastical film begins when the hero of Wendy, John and Michael's bedtime stories – Peter Pan, the boy who refuses to grow up – returns to the nursery and invites them on a magical journey to Never Land. With the help of tinker Bell, his feisty sidekick, a dazzling shower of pixie dust and some happy thoughts, Peter teaches them to fly. Off they soar to an enchanted island filled with wonder and adventure. Before they know it, they're knee-deep in a high-flying battle with swashbuckling pirates, led by Peter's archenemy, Captain Hook – Whose time is nearly up against a ticktocking crocodile.
The THX-certified DVD will feature a restored fullscreen transfer of the movie and a remastered audio track. The DVD will contain a number of exciting bonus materials, such as You Can Fly, a Featurette on the making of the movie. The Peter Pan Story is another featurette that is included on the disc, along with a running length Audio Commentary. But that's not all, a Still Gallery is also part of the disc, as well as the Sing-Along Following The Leader. Peter's Playful Prank is a DVD Storybook that can be found on the release as well as a Game called Pirate Treasure Hunt.
As you can see, the DVD is full of promising supplements, so prepare yourself for a trip to Never-Land when the Special Edition "Peter Pan" comes to your living room on February 12 for $29.99.