Columbia TriStar invites to dinner in Murder By Death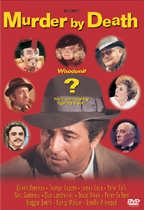 Columbia TriStar Home Entertainment has just unveiled details about the exciting DVD release of the murder-mystery comedy Murder By Death, scheduled for release in December.
The world's greatest detectives have been invited to dinner. But when murder is on the menu, who will make it to dessert? A mystery buff's greatest nightmare comes true when an eccentric millionaire invites five world-famous detectives to dinner and promises that one of them will die.
Featuring screen icons like Peter Sellers, David Niven, Elsa Lanchester, Peter Falk, Maggie Smith, Alec Guiness and James Cromwell among many others, "Murder By Death" is a hilarious spoof on the murder-mystery genre that is as atmospheric as it is funny.
Columbia TriStar's DVD release of the movie will contain an anamorphic widescreen version of the film as well as a fullframe presentation and come with English and Spanish language tracks, complemented by an array of subtitles. The DVD will also feature an Exclusive Interview with director Neil Simon, the movie's Trailer, Talent Files and Production Notes.
Be prepared for this tasty dish when it is served up on December 18!