Columbia TriStar brings you California Suite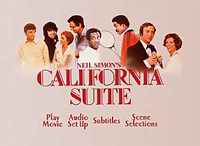 Columbia TriStar Home Entertainment has just announced plans to release the hilarious comedy California Suite on DVD this January.
Featuring an imposing cast that includes Jane Fonda, Alan Alda, Maggie Smith, Bill Cosby, Michael Caine, Walter Matthau, Elaine May and Richard Pryor, "California Suite" is the story of four couples who have come to the Beverly Hills Hotel for diverse reasons and who must all confront some rather amusing personal dilemmas. Sidney Cochran becomes the victim of wife Diana's outrage when she just misses winning an Oscar. Marvin Michaels must somehow explain to his wife how a sexy blonde got in his bed. Wisecracking Hannah Warren is uneasy about her ex-husband's new California lifestyle. And Dr. Chauncey Gump must contend with his friend's increasingly imposing manner.
The DVD will contain anamorphic widescreen transfer of the movie as well as a fullscreen presentation, complemented by language tracks in English and French. Sadly the disc will not contain any extras.
Get ready for "California Suite" to hit stores nationwide on January 2.