More information on Cameron Crowe's Almost Famous: Bootleg Cut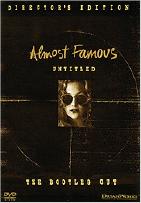 New information has come in after the initial announcement of the upcoming new edition of Cameron Crowe's 2000 coming of age film Almost Famous. As announced earlier, the set will contain both the theatrical release of the film and the new longer cut, which now is titled Untitled – The Bootleg Cut.
It's the opportunity of a lifetime when teenage reporter William Miller lands an assignment from Rolling Stone magazine. Despite the objections of his protective mother, William hits the road with an up-and-coming band and finds there¹s a lot more to write home about than the music. The Untitled – Bootleg Cut will contain over a half-hour of new footage which according to Crowe will make you "feel much more like you're on tour with the band, and you have a chance to get to know the characters in much greater depth, especially Russell Hammond's character."
Both versions of the film will be presented in anamorphic widescreen with audio in both Dolby Digital 5.1 and DTS. A new director¹s commentary will go along with the new Untitled version. A specially created featurette including behind-the-scenes footage, plus rehearsal footage from Stillwater¹s San Diego Show, is included as are original Rolling Stone articles from the 1970s penned by Cameron Crowe with an introduction by Crowe. Other feautres are Cameron Crowe's Top Ten 1973 album picks, the Academy Award-winning script, deleted scenes with commentary, production notes, cast and crew bios, and the original theatrical trailer. An interesting and unique feature is actually included on the menu screens which feature original music created by Nancy Wilson exclusively for the DVD. To complete the "bootleg" experience, the DVD package has been designed to resemble a classic rock album from the 70's and includes an exclusive 24 minute "Stillwater" CD featuring never before released tracks by the film¹s band.
Both the release date and the price have been updated for the better. The date has been pushed up to December 4th and the release price was brought down to $26.95.