More info on Jurassic Park III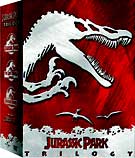 Universal Home Entertainment has just finalized the specifications on this summers big dino-hit Jurassic Park III as well as the upcoming box set which has a few extra surprises.
As previously announced "Jurassic Park III" will be given two releases, one containing the film with an anamorphically enhanced version of its original widescreen presentation, and one with a fullscreen presentation modified for televisions. Both discs will in every other way be identical. Both will contain audio in both Dolby Digital 5.1 and DTS 5.1 audio. Extra features include three featurettes; The Making of Jurassic Park III – A look at the making of the film featuring the filmmakers, cast, and crew, A Visit to ILM – A tour of the evolution of the film's CGI work, including the groundbreaking skin and muscle simulation and The New Dinosaurs of Jurassic Park III – An examination of the pre-historic creatures featured in the film and a visit to the Montana dinosaur dig site hosted by paleontologist Jack Horner. Also featured is an audio-commentary by the team responsible for the film's special effects, a guided tour of the Stan Winston Studio, a dinosaur turntable – A spectacular three-dimensional look at the 12 dinosaurs created for the film, storyboards, production drawings, and games.
Additionally, a coupon will be included in copies of JPIII sold before December 31st which can be redeemed for a free DVD from Universal. The free titles selectable are The Adventures of Rocky & Bullwinkle, Bowfinger, Dragonheart Collector's Edition, EDtv Collector's Edition, The Hurricane Collector's Edition, The Jackal Collector's Edition, Man on the Moon, Mercury Rising, Mystery Men, October Sky, Primary Colors, Psycho (1998) Collector's Edition, The Skulls Collector's Edition, The Story of Us, Virus and The Watcher.
New information is also available on the "Jurassic Park" box set coming on the same day. The set will contain the three existing films, but will also contain a bonus fourth disc containing never-before-seen bonus footage from all three films. The good news for owners of the first two films is that repurchasing those titles will not be necessary to receive the new bonus disc. Owners of "Jurassic Park" and "The Lost World" will be able to purchase not only the bonus disc, but a slipcase which can contain all four discs for $6.95.
Both versions of "Jurassic Park III", the new box set, and the bonus disc, will appear on December 11th. The individual discs of JPIII will be priced at $26.98 each. The box set will carry a suggested retail price of $75.98.