Little Women and Now, Voyager on the way from Warner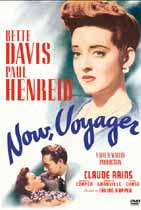 Two classics from the Warner Home Video vaults are preparing their way for DVD release. The Katherine Hepburn starring adaptation of the Louisa May Alcott novel Little Women, and the Bette Davis romance Now, Voyager are both coming in November.
The 1933 presentation of "Little Women" was directed by George Cukor and starred the incomparable Katharine Hepburn as Jo, the most fiercely independent of the spirited March sisters. The film tells the story of Jo and her sisters Meg, Beth and Amy, growing up in New England with their mother while their father is serving as a chaplain in the Civil War. Together, the four girls share hijinks and heartaches on their journeys to womanhood.
"Now, Voyager" features Bette Davis as Charlotte Vale, a love-starved woman who's spent her entire drab life under the thumb of her domineering mother. After suffering a breakdown, Charlotte is treated in a sanitarium by Dr. Jaquith (Claude Rains), who transforms her spirit and her fashion sense. She emerges from his care a new woman in a dashing new outfit and immediately boards a Rio de Janeiro-bound cruise ship, on which she meets Jerry Durrance (Paul Henreid), an unhappily married architect. Her affair with Jerry may be brief, but Charlotte returns to Boston with a new life to lead, determined to fulfill the words of Walt Whitman: "Now voyager sail thou forth to seek and find."
Both films will contain digitally remastered video and audio presenting the films in their original Academy ratio fullscreen presentations with mono sound. "Little Women" will also include additional audio track music cues from Max Steiner's score, the theatrical trailer, notes on the Hepburn/Cukor collaboration, and subtitles in English, French, Spanish and Portuguese, Mandarin and Korean. "Now Voyager" will contain scoring session cues, a theatrical trailer and English, French, Spanish and Portuguese subtitles.
Both titles will be available on November 13th, adding to the growing collection of classic films available from Warner Brothers. Both films will carry a $19.95 suggested retail price.