Jurassic Park III rips into DVD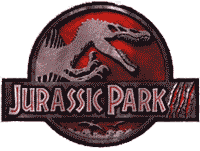 Even without Steven Spielberg at the directorial helm, Jurassic Park III made its mark at the box office. The third installment of the popular dino-series is coming to DVD from Universal Studios Home Video later this year.
Paleontologist Dr. Alan Grant (Sam Neill) devoted his entire life to the study of dinosaurs, but he never imagined he'd have to be face-to-face with them, again. Eight years later, InGen's debacle as well as the political and economic climate have taken their toll in the area of dinosaur research, as public and private funding are becoming increasingly extinct. Desperate to fund research for his new theory of Velociraptor intelligence, Grant is particularly vulnerable when wealthy adventurer Paul Kirby (William H. Macy) and his wife Amanda (Tea Leoni) approach him with a proposition. They will open their checkbook to him if he will accompany them on an aerial tour of Isla Sorna, a second InGen site. Just adjacent to Isla Nublar, this quarantined island has become both a primordial breeding ground for John Hammond's creations and a magnet for thrill-seekers eager to encounter them.
Unlike the original Jurassic Park movies on DVD, which were released in numerous versions, "Jurassic Park III" will have only two versions; an anamorphically enhanced widescreen copy, and a fullscreen copy. Like an increasing number of DVDs, the two discs will be identical other than this difference. Both discs will contain audio in both Dolby Digital 5.1 and DTS 5.1 which is a nice change. The disc will contain an audio commentary, a making of featurette, the theatrical trailer, a tour of Stan Winston Studio, a visit to ILM, dinosaur timetables, a behind-the-scenes, access to the JPIII archives, and two features called The New Dinosaurs of JPIII, and Finding New Dinosaurs.
"Jurassic Park III" will be coming from Universal on December 11. It's suggested retail price of $26.98 will tempt you to come to the island again.