DVD is going to the Cats & Dogs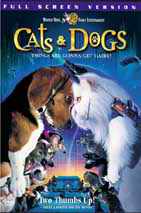 Warner Family Entertainment is preparing two releases for the surprise summer comedy Cats & Dogs. Both a fullscreen and a widescreen version are on the way this October.
A comedic action-adventure that mixes live action with cutting-edge CGI and animatronic effects, "Cats & Dogs" uncovers the truth about the high-tech, secret war being waged in neighborhoods everywhere that humans aren't even aware of: an eternal struggle between the two great armies of Cats and Dogs. The story follows a Cat plan to destroy a new vaccine that, if developed, would destroy all human allergies to Dogs, and the Dogs' efforts to stop the Cats from executing their plan.
Aside from the difference in aspect ratios, the two discs will otherwise be identical. Both will contain audio tracks in Dolby Digital 5.1 as well as two audio commentaries, one by dogs and one by cats. Also included will be several deleted scenes, the featurette "Teaching A New Dog New Tricks" and the HBO First Look Special. Several easter eggs will be hidden about on the disc.
The age old rivalry will live on October 16th with a suggested retail price of $26.98.