Barbra Streisand is America's favorite Funny Girl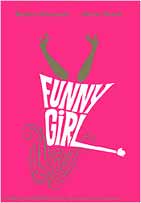 Ziegfeld took a chance on a girl named Fanny Brice, and William Wyler took a chance on a girl named Barbra Streisand. Both choices turned out to be good ones. One of Barbra's first roles became one of her most successful in Funny Girl. After rumor and speculation, the musical drama is coming to DVD next month.
One of the most popular movie musicals ever made, "Funny Girl" follows the early career of stage comedienne Fanny Brice, a role that earned Barbra Streisand the 1968 Oscar for Best Actress. As the film opens, only her mother believes Fanny can make it in show business. When she gets her first break at Keeney's Music Hall, her hilarious debut as a roller-skating chorus girl gets her hired as a comedienne. A year later Fanny is working for Florenz Ziegfeld in his famous Follies and brings the house down with an outrageous and unplanned number. Fanny becomes a star, falls in love and marries Nick Arnstein (Omar Sharif), many memorable songs include "Don't Rain On My Parade" and the Streisand classic "People."
"Funny Girl" will be presented in anamorphic widescreen with a new Dolby Digital 5.0 surround mix. The DVD will contain an original theatrical trailer, production info, filmographies, song highlights, and the two featurettes: "Barbra in Movieland" and "This is Streisand".
The October 23rd arrival of "Funny Girl" can't come soon enough for Streisand fans. The disc will cost $24.95.