Warner Home Video finally begins releasing Hammer Films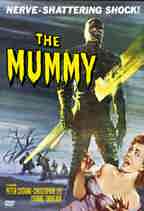 Although Anchor Bay Entertainment has been a constant supplier of DVD releases from the Hammer Library, a number of these films are exclusively owned by Warner Home Video. For the longest time now, fans have been hoping, Warner Brothers would dust them off and bring them to DVD. Well, at last, the time has come.
Scheduled for release on October 2 – just in time for Halloween – Warner Home Video is releasing the 1959 version of The Mummy, starring Christopher Lee and Peter Cushing. In this film, three archaeologists searching for the 4,000-year-old tomb of Princess Ananka among the ruins in Egypt are warned of grave consequences if they violate her tomb. Madness strikes one and as the others return to England with a mummy a series of murders take place as the mummy destroys those who desecrated the secret tomb.
No final specs for the release have been released, but it can be expected that Warner Home Video is releasing this film in an anamorphic widescreen version with the original Stereo audio track.
"The Mummy" is scheduled for release on October 2 and currently seems to be the only film in the Hammer line to make it to DVD, but it makes us hopeful that more are on the way. It will carry a suggested retail price of $19.98 when it will hit retail stores on October 2.