Warner Home Video announces Empire Of The Sun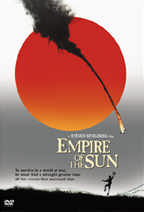 Scheduled for release on November 6, Warner Home Video has just unveiled details about an upcoming DVD release of Steven Spielberg's Empire Of The Sun.
It is an epic drama about a youngster's harrowing and remarkable experiences in World War II-era China after the Japanese invasion. Starring Christian Bale, John Malkovich, and Miranda Richardson, the 1987 film has received numerous awards, including Best Picture and Best Director from the National Board of Review.
The DVD will feature an anamorphic widescreen transfer of the film with a Dolby Surround audio track. A featurette and trailer will also be part of this release.
"Empire Of The Sun" will carry a $24.95 suggested retail price when it will be available in stores on November 6.