The long-awaited Monty Python and the Holy Grail specs are here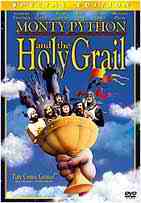 After the fairly disappointing release of the cult classic farce Monty Python and the Holy Grail the announcement of a special edition was welcome news. The disc is finally coming, and with it's release date only several weeks away, Columbia TriStar Home Entertainment has finally released the full specs on the special two-disc edition.
The well known film is a hilarious send-up of the Middle Ages as told through the story of King Arthur and framed by a modern-day murder investigation. When the mythical king of the Britons leads his knights on a quest for the Holy Grail, they face a wide array of horrors, including a persistent Black Knight, a three-headed giant, a cadre of shrubbery-challenged knights, the perilous Castle Anthrax, a killer rabbit, a house of virgins, and a handful of rude Frenchmen.
The lack of special features and anamorphic transfer from the original release are more than made up for in this very special two-disc set. Good humor and great devotion to the absurd seem present in every aspect of the upcoming set right down to the specifications in the press release, who's text is presented here unaltered:
DISC ONE


New! High definition widescreen presentation with pink frilly
edges!

New! Soundtrack in glorious 5.1 Dolby Digital!

New! Subtitles in English, French and Spanish

New! Subtitles for People Who Don't Like the Film (taken from
Shakespeare's Henry IV, part II)

New! On-Screen Screenplay: read the screenplay while you
watch
the film!

New! Enlightening commentaries by Terry Gilliam &
Terry Jones, plus general complaints and back-biting by John
Cleese, Eric Idle & Michael Palin

New! Extraordinary Animated Menus with very loud stereo sound.

New! Fascinating Scene Selection feature: all-moving, all-singing,
all-tax-avoidance.

New! Exciting "Follow The Killer Rabbit" Feature!

New! A special version for the Hard of Hearing.

Almost New! A glorious extra 24 seconds absolutely free!

Second Hand! Mono soundtrack in glorious old-fashioned mono.

DISC TWO


New! Three Mindless Sing-Alongs!

New! Join Michael Palin and Terry Jones in their special
documentary: The Quest for the Holy Grail Locations

New! How To Use Your Coconuts (an educational film)

New! Monty Python and the Holy Grail in Japanese! (With English
subtitles)

New! Monty Python and the Holy Grail In Lego!

New! "On Location with The Pythons". Genuine 18 min. location
report made in 1974 by BBC Film Night. (broadcast December 19, 1974)
New! An Interactive Cast Directory – discover just how many
roles Michael Palin plays!!

New! Tons of Terry Gilliam's original sketches plus
posters.

New! Behind-the-Scenes Photos – hitherto unseen by human
eyes!

New! A Load of Old Rubbish – a surprise package of mystery items
specially included for the mentally challenged.

New! Unused Locations! How the directors' recce used up the
budget!

New! Unused ideas!

Plus! Theatrical Trailers and, of course, Weblinks for
real nurds!

October 23rd is the day that "The Holy Grail" finally gets the royal treatment. Pick it up for $29.95, or I shall taunt you a second time.