The computer wizardry of Final Fantasy comes to DVD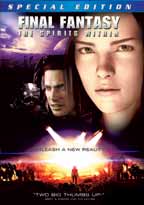 Despite quantum leaps in the technology and artistry of computer-animated films, studios have been reluctant to allow the medium to break from the genre of family entertainment. Columbia TriStar Home Entertainment and Square Entertainment were some of the first to bravely cross the line into more adult themed animation with Final Fantasy: The Spirits Within. After a disasterous box-office turn-out, the film that is loosely based on the long running video game franchise, will come to DVD faster than the light, along with all its breathtaking imagery and interesting supplements as a new Special Edition this October.
The year is 2065. A meteor has crashed onto Earth unleashing millions of alien creatures who roam the earth, decimating field and city alike, threatening to extinguish life itself. Prepare to be spellbound by an amazing woman, the brave individuals at her side and an astounding mission to save the Earth.
The Special Edition DVD will contain not only the film, but several special features including an interactive documentary, an alternate opening sequence, joke outtakes, film deconstruction, audio commentaries, and a Final Fantasy Thriller music video. A second version of the DVD will also be made available which includes extra features accessible through Sony's Playstation 2 game console unit.
On October 23rd, "Final Fantasy: The Spirits Within" will be available to own with a suggested retail price of $29.95.