The Clint Eastwood Collection grows with Dirty Harry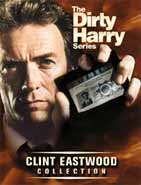 Warner Brothers Home Video is preparing a second box set
to supplement the current "Clint Eastwood Collection". The current set,
which features six of Eastwood's most memorable films with Warner
Brothers will be joined by a new box set featuring all five films
featuring the definitive tough guy – Dirty Harry. The Dirty
Harry Collection will feature a new special edition of the original
1971 cop flick Dirty Harry and the first DVD release for its four
sequels Magnum Force, The Enforcer, Sudden Impact,
and The Dead Pool.
All five films will be presented in anamorphic widescreen and feature Dolby Digital 5.1 audio tracks. "Dirty
Harry" will contain a special introduction with Clint Eastwood. The disc will also feature a documentary and an excerpt from Eastwood
on Eastwood. "Magnum Force" contains the featurette "Hero Cop Yesterday and
Today". "The Enforcer" contains the
featurette " Harry Callahan/Clint Eastwood: Something Special
in Films". Both "Sudden Impact" and "The Dead Pool" will not contain any special features.
On November 20th, "The Dirty Harry Collection" will be available for
$79.92. The DVDs will be available separately for $19.98 apiece.