Take a peek at Bridget Jones's Diary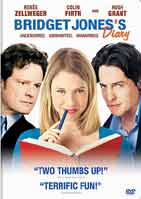 One of the biggest box office surprises of the year has been the romantic comedy that kickstarted Renee Zellweger's career, Bridget Jones's Diary. The film, based on the Helen Fielding novel, pulled in over $71 million, and now it's coming to DVD from Miramax.
This hilarious romantic comedy is the story of Bridget Jones (Zellweger), a 32 year old "singleton" who decides to take control of her life by keeping a diary. With a taste for adventure and an opinion on every subject – from her circle of friends, to men, food, sex and everything in between, she's decided to turn the page on a whole new life. Despite her efforts to get her act together, she finds herself caught between two men – a man who's too good to be true, Daniel Cleaver (Hugh Grant) and a man who's so wrong for her he could be right, Mark Darcy (Colin Firth).
The new DVD will come with an anamorphic transfer and Dolby Digital 5.1 audio tracks in English and French. The disc will also contain an audio commentary with director Sharon Maguire, a behind the scenes featurette, music videos for Shelby Lynn's "Killin' Kind" and "Out of Reach" by Gabrielle, International End Credit Sequence, and original Bridget Jones Columns.
"Bridget Jones's Diary" has been a crowd pleaser in theatres. On October 9th, the film will come home to DVD.