Swordfish hacks its way to DVD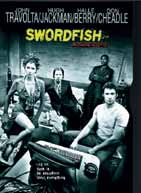 Warner Brothers Home Video is readying a feature-packed DVD for the action-packed thriller Swordfish later in October.
Swordfish is a suspenseful and action-packed story of the world's best computer hacker (Hugh Jackman) becoming entangled in a cyber-heist masterminded by a charismatic mystery man (John Travolta). The daring theft of a government slush fund (code-named Swordfish) becomes a high-stakes game of life and death that keeps everyone guessing until the end.
Swordfish features an anamorphic widescreen transfer and a Dolby Digital 5.1 surround track as well as a large stash of special features. A full-length audio commentary by director Dominic Sena, two documentaries; "The Making of Swordfish" – A special behind-the-scenes look at the making of the film and "The Effects in Focus: The Flying Bus" – an exclusive look at the special effects behind "Swordfish", three alternate endings with commentary by director Dominic Sena, and the original theatrical trailer make up the discs contents.
October 30th is when "Swordfish" hits DVD. It's suggested retail price is $24.95.