Official word on Star Trek: The Motion Picture at last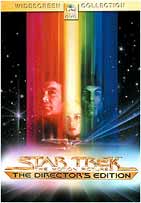 After months of speculation and previews around the country, Paramount Home Entertainent has finally announced the release date and specifications for the final "Star Trek" film to hit DVD. This November, Star Trek: The Motion Picture – The Director's Edition will hit stores as one the most comprehensive Paramount special editions to date.
The history of "Star Trek: The Motion Picture" making it to DVD has been an unprecedented journey. The first big screen journey of the U.S.S. Enterprise was a troubled production, constantly fighting budget and deadlines. Despite the best efforts of acclaimed director Robert Wise, the end product was never fully finished. Wise later restored several scenes to the film for television and home video release that made the film much more cohesive, but since widescreen was not fully accepted as a home video market at the time, no wide masters were ever made for this extra footage. The film remained in a hodge-podge condition for twenty years until the director finally convinced Paramount to let him revisit the film – not to create a new updated special edition, but to finish the work he had started in 1979. After several months of work, "Star Trek: The Motion Picture" is finally finished and ready to be seen as the director intended.
The new director's edition of the film will carry a new running time of 136 minutes, five minutes longer than the original edition of the film. The film will be seen with an anamorphic widescreen transfer, and English audio in Dolby Digital 5.1 and Dolby Surround 2.0. The film will be accompanied by a running audio commentary by director Robert Wise, special photographic effects director Douglas Trumbull, special photographic effects supervisor John Dykstra, music composer Jerry Goldsmith and actor Stephen Collins. A text commentary will also run with Star Trek technical guru Michael Okuda. A second disc will contain the supplemental extras which will include three new retrospective documentaries with cast and crew interviews, original teaser and theatrical trailer, the new Director's Edition trailer, eight TV commercials from the original theatrical release, five additional scenes (from the 1979 theatrical version) plus trims and outtakes, eleven deleted scenes (from the 1983 TV version), a storyboard archive, and a special promo spot for the upcoming fifth television series in the Star Trek Legacy, Enterprise.
After lackluster treatment of the other films in the Trek franchise, Paramount has certainly done right by this new edition of the first Star Trek film. Hopefully, equal care will be put into future Star Trek releases. "Star Trek: The Motion Picture – The Director's Edition" will materialize on November 6th and will carry a suggested retail price of $29.99. The Human Adventure is Only Beginning