New info on Disney's Dumbo: 60th Anniversary Edition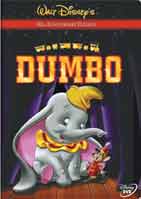 Previously announced as part of Disney's Gold Collection, the animated classic Dumbo now appears to be released with a 60th Anniversary Edition banner, but will be essentially the same as the existing Gold Collection.
One of Disney's greatest classics of all time, Dumbo is the timeless inspirational tale of courage, loyalty and triumph. Now, to celebrate the 60th anniversary of this beloved high-flying adventure Dumbo has been digitally restored and remastered to the original glory that captured the hearts of audiences all over the world. It's a big day at the circus when the stork delivers a pint-size elephant to Mrs. Jumbo.but with his oversized ears the innocent newcomer is snubbed, and dubbed "Dumbo" by the other elephants. With remarkable bravery and the encouragement of his loyal friend Timothy Mouse, Dumbo rises above it all, accomplishes the impossible and learns to fly! Dumbo's unforgettable adventure is a heroic lesson for us all, proving that friendship, love, and belief in oneself can overcome all odds.
"Dumbo" will be filled with extras that should please both family viewers and film buffs. Featuring a digitally remastered transfer of it's original Academy Ratio fullscreen format, the film will be remixed with a new Dolby Digital 5.1 surround track. The disc also contains the featurette: Celebrating Dumbo, sound design – excerpt From "The Reluctant Dragon" Featuring Casey Jr., a Dumbo DVD Storybook – Read-Along Series, Animated Shorts: Elmer Elephant and The Flying Mouse, Sing-Along Songs: Look Out For Mr. Stork and Casey Jr., Michael Crawford's Baby Mine Music Video, "Dumbo" art gallery, original Walt Disney TV commentary, as well as a feature length audio commentary, theatrical trailers, DVD-ROM content and weblinks, and an exclusive "Dumbo II" sneak preview.
Still scheduled for an October 23rd release date, "Dumbo: 60th Anniversary Edition" will carry a suggested retail price of $29.99.