HBO serves a second helping of The Sopranos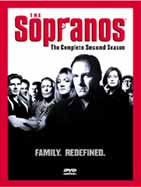 HBO has risen from the cable ranks in the last few years and has begun producing original television programs that showcase the best television has to offer. "Sex in the City", "Oz", and a myriad of other programs have shifted the paradigm of what quality television is capable of. But the show that continues to stand above the rest is the story of the Mafia's first family, The Sopranos.
HBO Home Entertainment is now celebrating this acclaimed series with a DVD release of the complete second season, perfectly complementing the previously released first installment.
In the second season, Tony Soprano's offbeat sister Janice turns up on his doorstep. Loose cannon Jackie Aprile is released from prison and comes looking for a piece of action. Someone who talks to the Feds is going to end up sleeping with the fishes. This is the season that has to be seen to be believed.
The set will include episodes in both widescreen and fullscreen and will boast a Dolby Digital 5.1 soundtrack. The set will include audio commentary for four episodes, two featurettes on the series, and web links to HBO.
"The Sopranos: Second Season is coming on November 6th for $99.98.