From Columbia TriStar comes The Age Of Innocence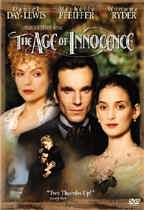 We have just received information that Columbia TriStar Home Entertainment will be releasing Martin Scorcese's period drama The Age Of Innocence on November 6.
"The Age Of Innocence" is telling the ravishing romance of three New Yorkers caught in a tragic love-triangle. Chronicling the grandeur and hypocrisy of high society in the 1870, the film stars Daniel Day-Lewis, Michelle Pfeiffer and Winona Ryder in a spellbinding portrait of romance and regret.
Presented in anamorphic widescreen, the DVD will present the film in its original theatrical 2.35:1 aspect ratio. It will contain a 5.1 channel Dolby Digital mix in English as well as a Dolby surround track in French. A selection of subtitles, trailers, filmographies and production notes will also be found on the release.
"The Age Of Innoncence" will be released on November 6 and carry a suggested retail price of $24.98.