A Barrel of Monkeys from the Planet of the Apes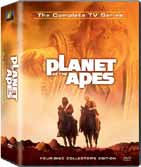 Following the success of Twentieth Century Fox Home Entertainment's successful "X-Files" and upcoming "Simpsons" Season Box sets, rumors have been flying around concerning the next series to be released by the studio. Out of the blue, Fox surprised us all with the announcement of the next series to grace the silver disc, Planet of the Apes: The Complete TV Series. The extremely short lived series lasted only three months in late 1974, and has most likely never been released on any form of home video, but is coming to DVD in November to help promote the eventual release of the 2001 remake of the original film.
In the early twenty-first century, two astronauts are thrust forward in time to the year 3,085. They discover a planet ruled by apes, but quickly learn the legends of other humans who landed before them. The two humans, with the assistance of a fugitive chimp roam the planets as renegades in the search for the humans who came before them, and hopefully, a way back home.
All fourteen episodes of the series will be included in the new four DVD set and will be presented in their original fullscreen ratios with mono sound. The forth disc will also contain a photo gallery from the series and orignal TV spots.
The set will be available on November 20th carrying a suggested retail price of $49.95. Make sure to get your damn dirty hands on a copy.