Warner reveals The Lord Of The Rings in September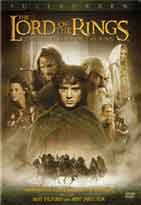 Before Peter Jackson tackled the story of Frodo Baggins and Gandalf, the wizard, for the silver screen, there were animated versions of J.R.R. Tolkien's epic fantasy tales The Hobbit and The Lord Of The Rings. Warner Home Video will finally bring these two films to DVD in September, just in time to build awareness for the first live-action "The Lord Of The Rings" movie that will hit theaters in December.
"The Hobbit" is the story of Bilbo Baggins in J.R.R. Tolkien's Middle-Earth, during the days of elves, wizards, goblins, dragons, heroes… and hobbits. Bilbo sets out to find adventures and to see more of the world, but what he finds by far exceeds even his wildest dreams, but with the help of his friends, in the end he succeeds and obtains treasures beyond belief.
Ralph Bakshi's animated version of "The Lord Of The Rings" is the continuation of the story, in which Bilbo hands down his magic ring to his cousin Frodo. But the ring is more dangerous than it seems. Evil forces are at work to find the ring and soon Frodo finds himself on a quest to keep the ring safe from the grasp of Evil. Along with the mighty wizard Gandalf and a daring band of hobbits, elves, dwarves and warriors he sets out to defend their enchanted land from the wicked sorcerer who is set to destroy it.
Warner Home Video has not yet announced details on these DVDs, but they will be in stores on September 11, each one carrying a $19.98 suggested retail price. As soon as we hear more on the technical specs of these exciting releases we will, of course, let you know!