Two wartime epics from Universal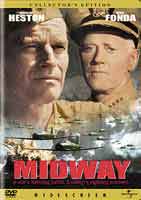 Universal Home Video salutes America's World War II soldiers with two classic war films on DVD. MacArthur and a Collector's Edition of Midway are both coming to disc in October.
"MacArthur" relates the extraordinary account of General Douglas MacArthur, one of the greatest and most controversial generals in American History, with Gregory Peck giving the brilliant performance of a lifetime. The film follows MacArthur's career from his departure from Corregidor in 1942 before the Phillipines fell, through his triumphant return as supreme commander of Allied forces in the Pacific, to his ultimate alienation of President Truman as a result of the Korean War policy.
In "Midway," Charlton Heston and Henry Fonda lead an amazing all-star cast – including James Coburn, Robert Mitchum, Hal Holbrook, Robert Wagner and Glenn Ford – in the story of the famous naval battle between the U.S. and Japan during World War II. Filled with gripping battle scenes, Midway also chronicles the events leading up to the momentous battle, including the story behind the crucial breakthrough in decoding the Japanese high command's orders.
"MacArthur" will come as a standard DVD and will contain the film in its original widescreen aspect ratio in a 16×9 enhanced transfer. The DVD will also include a Theatrical Trailer, Cast and Filmmaker Bios, and Production Notes.
The "Midway Collector's Edition" on the other hand will be quite filled with extras. In addition to an anamorphic widescreen transfer, the DVD will contain a Documentary featuring new interviews with producer Walter Mirisch, director Jack Smight, editor Frank J. Urioste and star Charlton Heston, a Featurette on composer John Williams, a Featurette on Universal's pioneering audio format Sensurround Sound (first developed for 1974's "Earthquake"), which enhanced the sounds of gunfire, bombing and explosions for theatrical audiences, Production Photographs set to the score by John Williams, Additional Scenes exclusively shot for the network television version, a Theatrical Trailer and DVD-ROM content.
Although the documentary on Sensurround will discuss the soundtrack of the film at depth, no word has come from Universal on how this unique sound format will be translated to DVD.
Coming on the 30th of October, both "Midway: Collector's Edition" and "MacArthur" will be available from Universal for $24.98 each.