Two Biblical Epics are on the way from Fox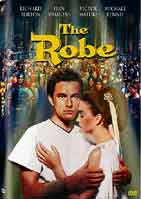 The fifties and sixties were a time when Twentieth Century Fox produced some of the great epics in film history. Now the studio is preparing two of its grand Biblical films, The Bible and The Robe.
The greatest stories of the Old Testament are brought to the screen with astounding scope and power in "The Bible", the international film that depicts the first 22 chapters of Genesis. This is the spectacular story of man's creation, his fall, his survival and his indomitable faith in the future.
"The Robe" jumps forward to the New Testament and follows a Roman soldier who presides over the crucifixion of Christ and is stricken with guilt after he wins the dying man's robe in a dice game.
Both films will be presented in anamorphic widescreen preserving their staggering 2.55:1 aspect ratios. Interestingly, like many of the films of 1953, "The Robe" was also originally prepared with a spherical 1.37:1 ratio to accommodate theatres unequipped for the widescreen format. This version of the film will unfortunately not be included on the disc. Mono and stereo soundtracks will be on both discs. "The Robe" will also contain a Dolby Digital 4.0 audio track to recreate the original 1953 soundtrack. Both DVDs will also come with original theatrical trailers.
Both "The Robe" and "The Bible" will be available on DVD with a suggested retail price of $19.98 and will be available on October 16th.