The details about Anchor Bay's Suspiria are here!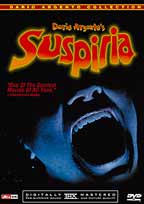 Anchor Bay Entertainment has finally been able to unveil the details on one highly anticipated release – Dario Argento's Suspiria.
Jessica Harper stars as Suzy Banyon, a young American ballet dancer who arrives at a prestigious European dance academy run by the mysterious Madame Blanc and Miss Tanner. But when a series of bizarre incidents and horrific crimes (including what Entertainment Weekly calls "the most vicious murder scene ever filmed") turn the school into a waking nightmare of the damned, Suzy must escape the academy's unspeakable secret of supernatural evil.
For the longest time, "Suspiria" was in legal limbo as distributors and publishers tried to figure out, who owned the rights to the film until anchor Bay was finally able to secure the rights for themselves, much to the excitement of the film's fans, as Anchor Bay has become a warrant for high quality releases. As such, it is hardly surprising that the studio has had special plans for this release and the final announcement underscores the notion.
"Suspiria" is coming to DVD in two slightly different versions. A standard release, featuring the film and a number of extras, as well as a Limited Edition 3 Disc Set, that is limited to 60,000 copies, that contains an exclusive 52-minute Documentary with all new cast & crew interviews, and the Original CD Soundtrack by Goblin.
The film itself is presented in anamorphic widescreen and will feature English Dolby Digital EX, DTS and Dolby Surround audio tracks as well as Italian and French Dolby Surround language tracks. The extras found on both versions will include the "Demonia" Music Video, a number of Theatrical Trailers and TV Spots, as well as Radio Spots and a Photo Gallery. The disc will be rounded out by Talent Biographies and Liner Notes.
Both versions of the film will be released on September 11. The standard version of the release will carry a suggested retail price of $24.98 while the Limited Edition will cost you $44.98.