Paramount presents Along Came a Spider this fall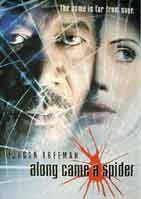 Four years ago, James Patterson's popular novel "Kiss the Girls" made a
very successful transition to film. This year Along Came a Spider
joined its predecessor on the big screen. This September, the film will
join the former film again when it is released on DVD from Paramount
Home Entertainment.
"Along Came a Spider" is a psychological suspense thriller. Morgan
Freeman reprises his role as the Washington, D.C., police detective and
psychologist Alex Cross, who is through playing mind games with
criminals–that is until a methodical predator, Gary Soneji (Michael
Wincott) kidnaps the young daughter of a U.S. Senator from an elite
school and lures Cross into the case. Soneji's not out for ransom, he
wants something much bigger–a place in the history books. His every
move is planned with the precision of a spider spinning his web, and
Cross and Secret Service agent Jezzie Flannigan (Monica Potter) are in a
race against time to stop him.
"Along Came a Spider" will be presented in its original 2.35:1
widescreen format enhanced for 16×9 televisions. The sound
mix will be Dolby Digital 5.1. Like much of Paramount's library,
the disc is somewhat sparse on extras, but does contain a theatrical
trailer and a making of featurette.
September 25th is the day. Pick up a copy of "Along Came a Spider" for
$24.99.