Final specs are in on The Simpsons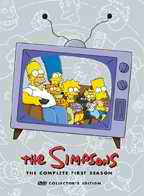 The announcement that televisions longest running sitcom, The Simpsons was coming to DVD, included a long but somewhat vague list of special features. Now Twentieth Century Fox Home Entertainment has released detailed information on the upcoming Season One Collector's Set.
The episodes will of course be presented in their original fullscreen 1.33:1 aspect ratio, but unlike "The X-Files" episodes released from Fox, each episode will be remixed in Dolby Digital 5.1 surround sound and will contain an additional French Dolby Surround track. The first disc in the set will contain original scripts featuring notes by Matt Groening for Bart The Genius, Bart The General, and Moaning Lisa in addition to an audio commentary for the six episodes on the discs.
Disc two will contain six more episodes with audio commentary. The third disc in the set will contain the final episode of the first season, as well as original script notes by Matt Groening, Outtakes from un-aired version of an episode, Animatic of an episode with commentary by Matt Groening and David Silverman, the BBC Special "Americas First Family", an Easter Egg ABC News Special on a reported controversy, Tracey Ullman Show: 1st ever "Simpsons" short to air on "Tracey Ullman Show", five Foreign Language Clips, Early Sketches, Still Gallery, and Magazine Covers.
It should be pointed out that some of these facts seem to jibe with the original press release. This new information suggests that there will be fewer foreign language clips than originally suggested, only one of the original "Tracy Ullman" shorts will be included, and the lost episode which was to be included may not be included as an episode, but merely as a series of outtakes. Although it is hard to complain about a set of this magnitude, the Ullman shorts and the lost episode – if it exsists in any finished format – would be sorely missed if they were not included in this set.
The "The Simpsons Season 1 DVD Collector's Edition Box Set" is still scheduled for a September 25th release date and will carry a suggested retail price of $39.98.