David Lean's epic Doctor Zhivago finally comes to DVD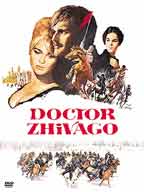 British director David Lean, redefined the historical epic with his sweeping artistry in cinematography and dedication to authenticity in the most exotic locales. Of all his films however, three stood out from the rest and remain masterpieces to this day. "Lawrence of Arabia" and "Bridge on the River Kwai" made their DVD debuts earlier this year as impressive special editions. Now Doctor Zhivago will join Lean's other epics when Warner Home Video releases the film as a 2-disc special edition.
Omar Sharif stars in the title role of "Doctor Zhivago", portraying the surgeon-poet over a half-century period. Zhivago, who is married to Tonya (Geraldine Chaplin), an aristocratic girl with whom he raises a family, is also in love with Lara (Julie Christie), a nurse whose life has been destroyed by tragedy. Repeatedly brought together and separated from each woman by war and revolution, Zhivago is torn apart by conflict. He loves Tonya deeply but his poetic soul belongs to Lara. Much like his beloved country, Zhivago's spirit becomes battered by the devastation of war as he struggles to maintain his individualism in the face of overwhelming odds.
The DVD of "Doctor Zhivago" was pushed back over a year, but the two disc special edition contains enough supplemental materials to more than make up for the wait. The film has been given a brand new digital transfer from refurbished elements and will be released in an anamorphic widescreen presentation of the films original Panavision 2.35:1 ration. The sound has also been restored and remixed in a new Dolby Digital 5.1 track. In addition to the restored video and audio, Omar Sharif, Rod Steiger and the director's wife Sandra Lean have reunited to contribute to the new DVD. An Introduction by Omar Sharif begins the film. An audio commentary by Lean, Steiger, and Sandra Lean will accompany the film. Additional features include a 30th-anniversary behind-the-scenes documentary Doctor Zhivago: The Making of a Russian Epic, 10 vintage documentaries profiling the production and its stars, an isolated music-only audio track highlighting Maurice Jarre's Oscar and Grammy-winning score, Vintage audio sound bites of cast/director interviews and the December 1965 New York premiere, cast/director career highlights, and a theatrical trailer.
Let's hope Warner Home Video is getting this 2-disc set right and won't release it in another snapper case, hiding the second disc in the sleeve. The long awaited DVD will finally come to fruition on November 6th for $29.99.